Baby Strollers Rental in Baby Service Kyiv
Baby stroller and hand luggage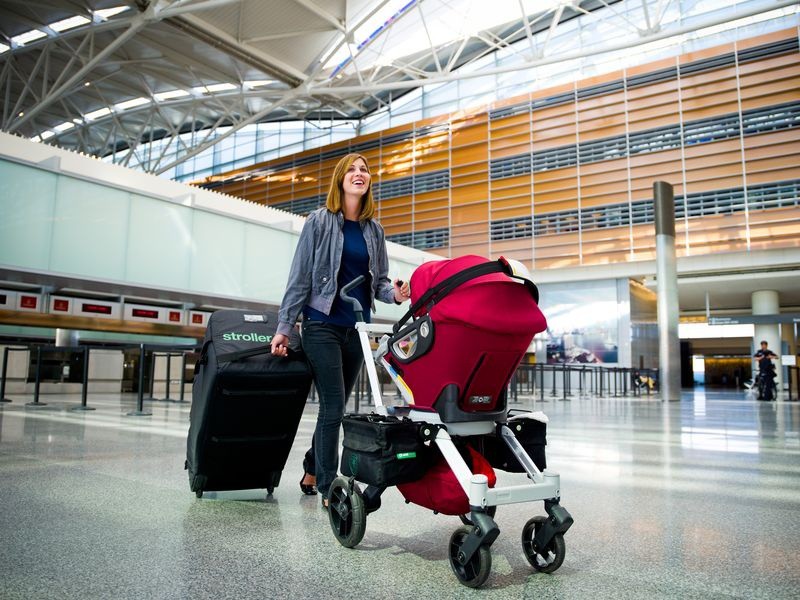 If you are going on a trip from Ukraine with children, then you definitely need a stroller on the go. If you do not have a small and comfortable stroller, then it is not necessary to buy it specifically for travel. For such purposes, it is more convenient and easier to rent a stroller. Also, here are another few of our tips on what parents should know when buying plane tickets and thinking about their departure.
"If the weight and size of a baby stroller (fully folded), including the packaging, are within the maximum limits for hand luggage as per class of service, it can be transported in the passenger cabin in the overhead locker instead of one piece of hand luggage".
Many already know for sure that UIA (so far is the largest carrier in Ukraine – more than 8 million passengers last year!) has changed the requirements for carrying hand-luggage since January 2019.
Now, depending on the fare, the number of seats allowed size and weight of carry-on luggage are different.
The minimum option is 1 place of hand luggage with dimensions up to 55 x 40 x 20 cm and weighing up to 7 kg.
But on such flights, the size is even smaller:
"Free hand baggage allowance on Embraer-145 aircraft: 1 place up to 5 kg/up to 55 x 35 x 15 cm".
Such a popular stroller for travellers as YOYO BebyZen with folded dimensions 50 x 42 x 27 cm and weighing 6.35 kg (well, that's as much as 2 cm extra!) not match the requirements for carry-on baggage. Its Chinese counterpart YOYA and even the new one Atom from Maclaren 2019 (55 x 45 x 24 cm, weight – 5.4 kg) do not match them either.
What still fits into the UIA's carry-on baggage requirements is the incredible GB Pokit + (Germany/China) with dimensions of 54 x 33 x 17 cm and weight of 5.4 kg. BUGS Picnic (53 x 28 x 25 cm and weighing 6.38 kg) is another one.
Please note that "Service limitations may apply on flights with UIA's partner airlines. For more information please contact the ticket office where you purchased your ticket. You can also get information at UIA Contact Center".
All about UIA carry-on baggage allowance you can find out HERE.
And also, those who have small children remember that on the UIA flights "Passengers travelling with children are entitled to priority check-in and boarding. families with small children are entitled to URGENT REGISTRATION and LETTING to board the aircraft".
We hope you find this information useful!
Everything about travelling with children on UIA flights is on page .
All sorts of nuances and "but", so be sure to check the latest requirements directly from airlines before departure! Including from UIA, because the site may not be updated and the requirements yes:)
This is about the rules of hand luggage. But the more important question is do you really need it? I. e. to worry about whether the stroller will pass in hand luggage. In our other article, we put just a few questions you should ask yourself when planning a flight with a small child+stroller.